Difference between revisions of "Lipstick grabber"
From RoboWiki
Line 109:
Line 109:
 
 
 

[[Category:Projects]]

 

[[Category:Projects]]

 
+
 
+
 
+
---
Revision as of 09:38, 27 October 2009
Project: The Lipstick grabber
Overview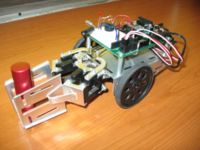 Author(s): Giulia Toti (a.k.a. Giugiu)
Country: Italy
Date: 11.07.2008
Activity: Robolution 2008
Location: Bratislava, SVK
Hardware: Boe-Bot robot, IR sensor, gripper

Abstract
Very dangerous. Feared by many women.
Takes away your lipstick as soon as he spots it and hides it on some other place - so far, no kidnapped lipstick has been rescued alive and there are still many missing.
Caution: Never ever let your lipstick unattended while suspicion on Lipstick grabber's presence persists.

Caught on tape!!!
Project Files
The source code:
' {$STAMP BS2}




' {$PBASIC 2.5}





counter

       

VAR

 

Word




counter2

      

VAR

 

Word




counter3

      

VAR

 

Word




irDetectRight

 

VAR

 

Bit





DO




  

PULSOUT

 

14

,

 

1000




  

PULSOUT

 

13

,

600




  

PULSOUT

 

12

,

 

900





  

FREQOUT

 

2

,

 

1

,

 

38500




  

irDetectRight

 

=

 

IN0





  

IF

 

(

irDetectRight

 

=

 

0

)

  

THEN




    

PAUSE

 

1000




    

HIGH

 

1




  

FOR

 

counter

 

=

 

1

 

TO

 

100

                

'take




   

PULSOUT

 

14

,

 

500




   

PAUSE

 

5




  

NEXT





  

FOR

 

counter

 

=

 

1

 

TO

 

100

                

'go forward




   

PULSOUT

 

14

,

 

500




   

PULSOUT

 

13

,

650




   

PULSOUT

 

12

,

850




  

PAUSE

 

5




  

NEXT





  

FOR

 

counter

 

=

 

1

 

TO

 

60

                 

'turn left




   

PULSOUT

 

14

,

 

500




   

PULSOUT

 

13

,

650




   

PULSOUT

 

12

,

650




   

PAUSE

 

5




  

NEXT





  

FOR

 

counter

 

=

 

1

 

TO

 

50

                 

'go forward




   

PULSOUT

 

14

,

 

500




   

PULSOUT

 

13

,

650




   

PULSOUT

 

12

,

850




  

PAUSE

 

20




  

NEXT





  

FOR

 

counter2

 

=

 

1

 

TO

 

100

               

'release




   

PULSOUT

 

14

,

 

1000




   

LOW

 

1




   

PAUSE

 

10




  

NEXT





  

FOR

 

counter3

 

=

 

1

 

TO

 

50

                

'go back




   

PULSOUT

 

13

,

900




   

PULSOUT

 

12

,

 

600




   

PAUSE

 

10




  

NEXT





  

FOR

 

counter

 

=

 

1

 

TO

 

3

                  

'sound: finished!




   

FREQOUT

 

4

,

 

300

,

 

4000




   

PAUSE

 

10




  

NEXT





  

GOTO

 

Finish




 

ENDIF





LOOP





Finish:




 

END




Go back to the List of the projects