VR controlled robot hand - Elisabet Delgado Mas
From RoboWiki
Progress
22.01.07 Sewn glove with improvements.
22.01.03 Sewn glove first version.
[Christmas Break]
21.12.17 Code and control via bending sensors.
21.12.10 Code and control via potentiometres.
21.12.03 Order necessary materials. Explore NICO's code.
21.11.26 Redesign of the project using NICO (Neuro-Inspired COmpanion Robot).
21.11.20-21 Research of robotic and prosthetic hand 3D models, biomimetism, animatronics, human augmentation.
21.11.19 Kick-off meeting & FabLab visit.
21.11.10-17 Project Proposal
Note: Date format is yy.mm.dd
Task
Glove controller
Robotic hand
Solution
Photos
Video
Source Code
Process
Achieved:
Fase 0. Nico's robot hands movement (21.12.03)
Fase 1. Potentiometers controller, v1 prototype (21.12.10)
Controlling Nico hand with Arduino wooden console
Fase 2. Minimal glove, v2 prototype (21.12.17)
Fase 3.0 Wearable (sewn) glove, v3 prototype (22.01.04)

Pending:
Fase 3.1 + Wireless component, v3.1
Fase 3.2 + Unified box design, v3.2
Milestone: control of Nico's hand via a wireless wearable glove
Fase 4. Gyroscope armbands, v1 prototype
Milestone: control of Nico's arm
Links
Basic wireless glove controllers and low-cost robotic hands
More advanced prosthetic-like robotic hands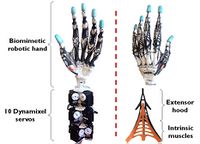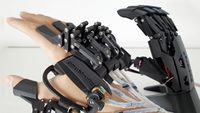 Other ideas
Extra fingers:
Exo hand:
Robotic arms:
+AI:
OpenAI - Learning Dexterity, robot hand reinforcement learning to manipulate physical objects.
Wearable ASL gloves:
Animatronic Eyes:
Humanoid Robots:
Self-made Behance list with several glove and medical technology designs