FENA Robot Attack
From RoboWiki
Overview
Author(s): NATALIA FEDERICA CRISTIAN
Country: Spain Italia Estonia
Date: 13.08.2009
Activity: Centrobot Robotic Summer School 2009
Location: Vienna, Austria
Hardware: LEGO Mindstorms NXT

Abstract
So..... It was Tuesday evening (actually it was pub crowling XD).... Some one told us that if you´ve seen an engineer attack him... like "rabbit attack"... but we a scientific people... so.... our robot , our team is ROBOT ATTACK, FENA ROBOT ATTACK! It was very hard and long work... our international team was trying to creat some AI (his name is BICHITO in inglish it means bug) and finally we made it! now i want to present our little bichito...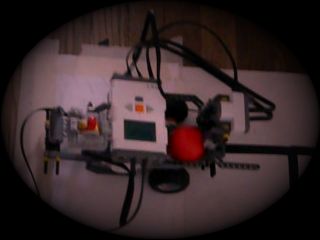 Do not miss: VIDEO (35 MB)
---
Bichito is a LEGO ROBOT with
Project Files
The source code: maybe...
Go back to the List of the projects